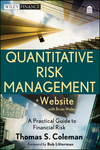 Published by Wiley in May 2012, this book presents a road map for tactical and strategic decision-making designed to control risk and capitalize on opportunities, covering the techniques and tools used to measure and monitor risk. These techniques and tools are often mathematical and specialized, but the ideas are simple. The book starts with how we think about risk and uncertainty, then turns to a practical explanation of how risk is measured in today's complex financial markets.
Covers everything from risk measures, probability, and regulatory issues to portfolio risk analytics and reporting
Includes interactive graphs and computer code for portfolio risk and analytics
Explains why tactical and strategic decisions must be made at every level of the firm and portfolio
This volume, in common with the CFA monograph A Practical Guide to Risk Management, focuses on how to think about risk, but also includes the technical material necessary to actually measure risk.
Providing the models, tools, and techniques firms need to build the best risk management practices, Quantitative Risk Management is an essential volume from an experienced manager and quantitative analyst.
Here is a detailed table-of-contents.
Here are links for purchase (at Amazon, Barnes and Noble, etc.), and here is a link to the Wiley.com site, with more description and excerpts.